Dear Soon-to-be-Awesome Guitarist,
Have you ever been confused by hard-to-read song books, amateur tabs, and online misinformation?
Would you love to eliminate those embarrassing moments where friends and musicians ask you "Hey, do you know how to play that song?" (And you're forced to say NO)?
Do you find yourself "just too busy" to play as much as you want... Has your guitar been sitting in a case for weeks or even months? Has your career, family, kids, school and other stresses pushed guitar out of your life?
Do you struggle to "put songs together" and feel like it just takes way too long to research and learn your favorite tunes?
Would you love to be able to play 50, 100, or even 200 of the greatest guitar songs of all time?
If you answered 'YES' to any of these questions, then please pay close attention... because in the next 5 minutes, I'm going to share my breakthrough "1 2 3" formula that you can use to play all your favorite songs with power and authority.
Today, you're gonna learn how.
Seriously.
Hi, my name is Claude Johnson.
And over 4.3 million guitarists have trusted me to hook them up with the most important and cutting-edge guitar info. I'll tell you more about myself in just a moment, but first I want to make you a big promise : If you can follow 3 ridiculously simple steps, then you can add over 200 songs into your fingers FAST.
I personally guarantee that it's gonna blow your mind how easy it is to play all your favorite songs.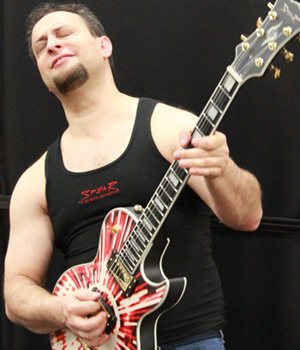 The whole process takes just 5 minutes tops.
You can do it over a cup of coffee.
If you've ever struggled to sound great on the guitar, this is gonna rock your world.
It doesn't matter if you're a raw beginner or a seasoned guitar veteran. You're gonna love learning this mindblowing repertoire of some of the greatest guitar songs of all time...
Imagine being able to play new songs on the guitar in 5 minutes flat... You'll be rocking out dozens of new songs every week. You'll quickly possess a kick-ass 200 song repertoire in a few short months. It's all possible thanks to my proprietary "song cheat-sheets".
Let me tell you the embarassing true story
that led to this awesome guitar
playing breakthrough.
In college, I was always practicing guitar scales and exercises in my room. Everyone in the dorm knew me as the "guitar guy". One night my roommate comes back from the pub with 3 of his buddies and 2 smokin' chicks.
They said: "Claude, play us a song!"
I realized right then and there that even though I knew a lot of random stuff about the guitar, I didn't know that many songs start to finish. And what I did know, sounded sloppy. I tried my best to play something, but halfway through the song, I couldn't remember the chords. It was a total embarrassment.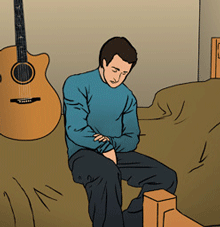 To add insult to injury, one of the other guys (who I think didn't even own a guitar) said "hey let me see that thing" and he churned out a couple sweet tunes. Everyone was singing and having a great time (except me).
Here I was, the dude who was supposedly the "guitar guy", being humiliated by this random bum.
Man... I felt like a loser.
But, I got my shot at redemption a few weeks later.
My friend Pat said: "Hey Claude, there's a block party coming up, and I want to put a band together. Can you learn 20 or 30 songs in the next 2 weeks?"
I knew it was possible... I wasn't sure how... but I had to give it a shot.
It felt like I was cramming for the biggest exam of my life.
Thanks to the intense deadline pressure, I actually stumbled upon 3 very powerful breakthrough ideas that I used to master over 30 songs in 2 short weeks.
Here's the "1-2-3" Formula that will help you
play any song in 5 minutes flat:
---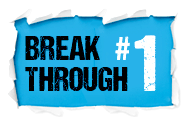 First, I noticed that almost all the songs used the same exact chords. Sure, there was a weird chord here or there, but 95% of the chords were all the same. Wow, this was gonna be even easier than I thought!
So your first step is learning just a FEW basic chords...
---
The second insight I had was that when I combined the chords with the right strum pattern, the songs sounded perfect.
Because of the time constraints, I was forced to create a unique strum pattern technique. It made it super easy to play all these songs like a pro. I've never seen this method anywhere else.
---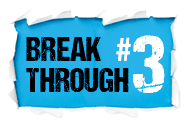 The final thing I figured out was that by writing out the chord progressions in neat little boxes and rows, everything became clear, easy to connect, easy to remember, and easy to rock out.
By taking the chord progressions for each song, and putting them into my proprietary "cheat sheet" layout, it was really super easy to play great sounding guitar that amazed everyone.
---
I didn't need to learn painfully detailed tabs.
In fact, it would of been virtually impossible for me to learn all these songs if I would've used traditional tablature.
Although I was still a bit nervous, the gig went off without a hitch. I didn't forget any of my parts. We totally rocked that party and I felt like a hero! Maybe it sounds a little corny, but I really felt like I regained my self esteem. Frankly I was amazed that I was able to nail that many songs in such a short period of time.
Since then, I've taught hundreds of thousands of guitarists this formula and everyone agrees that it works. And I guarantee it will work for you. I've cracked the code that will help you play all your favorite songs as fast as humanly possible.